I finally finished the bag I wrote about here.
It turned out bigger than initially intended, mostly because I had too much fun adding pieces. Next time I will draw a pattern first and – hopefully – stick to it. Measuring 55 x 52 x 12 cm the bag is the ideal size for storing copious amounts of yarn. There is a front pocket with a zipper for circular needles and a back pocket large enough to hold a notebook. In my opinion the most covetable bags have pockets galore, therefore I added some more rather commodious ones to the lining. The stencilled decoration and the cloverleaf-appliqué are inspired by potter´s marks on medieval pots and jugs.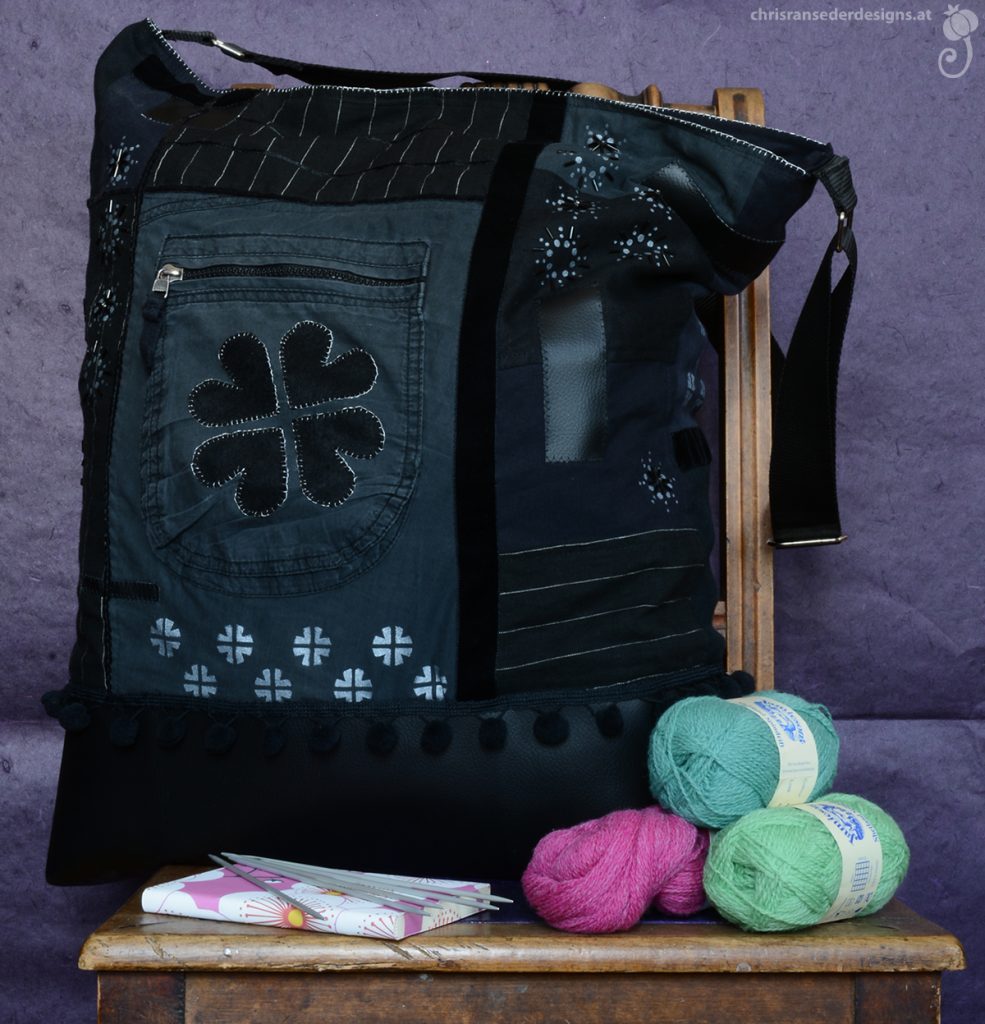 Amazingly there is still some material left. At the rate I am ruining trousers I will soon be able to sew a smaller bag that I can actually carry with me on a daily basis. One can never have enough bags and purses!
I am really pleased to have created something useful and quite attractive out of torn trousers that would otherwise have ended up as cleaning rags at best.
Taschen-Völlerei
Ich habe endlich die Tasche, über die ich hier geschrieben habe, fertiggestellt.
Sie ist um einiges größer geworden als ursprünglich beabsichtigt, aber das Anfügen von Fleckerln hat einfach so viel Spaß gemacht. Das nächste Mal zeichne ich zuerst einen Schnitt und versuche dann, mich daran zu halten. Die Tasche misst 55 x 52 x 12 cm und ist damit so groß, dass ein beträchtlicher Wollvorrat hineinpasst. An der Vorderseite gibt es eine Tasche mit Reißverschluss, in der sich Rundstricknadeln gut unterbringen lassen. An der Rückseite habe ich eine Tasche, die groß genug für ein Notizbuch und/oder Sockenstricknadeln ist, integriert. Da eine Tasche meiner Ansicht nie genug Seitenfächer und Täschchen haben kann, baute ich ins Futter auch noch einige – recht geräumige – ein. Die schablonierten Muster und das applizierte "Kleeblatt" aus Filz sind übrigends von Töpfermarken auf mittelalterlichen Töpfen und Krügen inspiriert.

Zu meinem Erstaunen, blieb sogar noch Material über. Angesichts der Geschwindigkeit, mit der ich Hosen zerreiße, werde ich bald eine kleinere Taschenversion nähen können, die dann aber wirklich alltagstauglich sein soll. Man kann nie genug Taschen und Beutel haben!
Es ist doch schön, dass ich aus den kaputten Hosen, die sonst bestenfalls als Putzlappen geendet hätten, noch etwas Praktisches und Hübsches schneidern konnte.