Tap, tap … The sound of tiny claws on glass seems loud in the otherwise silent flat. Jars – large, medium, small and tiny, bulbous, straight-sided and bell-shaped – cover every horizontal surface in the flat of three sisters. The inhabitants of these transparent prisons munch on their allotted foliage, circle despondently or try to scrabble futilely to the top only to fall back down. Soon they will have company: Kat, the eldest sister, is out hunting for more insects.
Meanwhile Helena, the geneticist, sits in her laboratory and contemplates her latest creation, the forkbeetle. In front of her stands a tray filled with earth, in which a forkbeetle is happily digging. The construct, designed to assist gardeners, fulfills its sole purpose, namely to aerate the soil, with commendable zeal.
The third sister, Eve, is documenting the forkbeetle´s performance on video, thereby collecting data for the analysis of its movements.
"You should have made the tines shorter, it has problems lifting its head when the fork is fully loaded," Eve comments.
Her sister sighs. "I will rectify this design flaw in the second generation."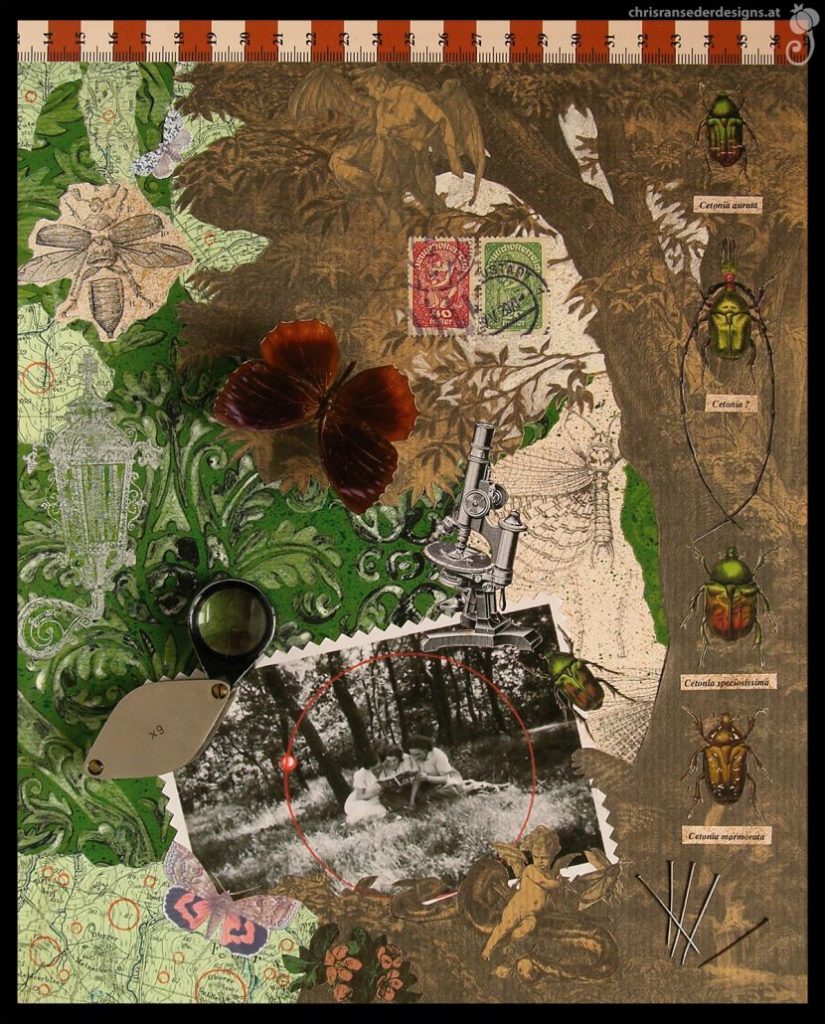 Die Insektenspezialistinnen
Ping, ping … In dem ansonsten stillen Appartement klingt das Geräusch kleiner Krallen auf Glas überlaut. Auf jeder horizontalen Fläche in der Wohnung von drei Schwestern stehen Gläser – große, mittlere, kleine und winzige, rundliche, geradwandige und glockenförmige. Die Bewohner dieser transparenten Gefängnisse knabbern an dem ihnen zugeteilten Grünzeug, kreisen verzagt oder versuchen mit wenig Erfolg nach oben zu krabbeln, nur um wieder herunterzufallen. Bald werden sie Gesellschaft bekommen: Kat, die älteste Schwester, ist unterwegs, um Insekten zu jagen.
Zur gleichen Zeit sitzt Helena, die Genetikerin, in ihrem Labor und betrachtet ihre neueste Schöpfung, den Gabelkäfer. Vor ihr steht ein Behälter, reichlich mit Erde gefüllt, in der ein Gabelkäfer glücklich wühlt. Das als Assistent für Gärtner entworfene Geschöpf erfüllt seine einzige Aufgabe, das Erdreich zu belüften, mit bewundernswertem Eifer.
Die dritte Schwester, Eva, hält die Arbeit des Gabelkäfers auf Video fest, um später Daten für die Analyse seiner Bewegungsabläufe zu haben.
"Du hättest die Zinken kürzer machen sollen. Er hat Probleme den Kopf zu heben, wenn die Gabel voll beladen ist," merkt Eva an.
Ihre Schester seufzt. " Ich werde den Designfehler in der zweiten Generation berichtigen."
More in this series. | Mehr in dieser Reihe.
Missing in Amazonia