Look at vintage photographs of women and more often than not you will spot cut flowers – be it real or artificial. A lovely sight for sure, but a tad tame. Let´s imagine daring gardeners and plants with a will of their own for a change.
"Gertrud come here, you must see this!"
The nursery owner, who was kneeling in front of a large dome-shaped mound of mirthless moss of a particularly fetching shade of black, rose with creaking limbs and sauntered towards her assistant, Phyllis.
"Look, the blushing daisies are showing a new colour!" The young woman pointed excitedly at the little plants. Usually this unique variety changed colour from white to pastel pink, but now the daisies were blazing crimson.
"What did you read to them?"
"The news!"
"Well, that explains it!" Gertrud sighed.
"A short story with a happy ending should calm them. By the way, did you notice the singing nettles have invaded the salad bed again? Please, try to shoo them back to where they belong. And don´t forget to feed the snapdragons, we cant´t have them frighten the zinnias."
Phyllis nodded. "Will do."
"Good. If you need help, just shout, I will be in the sunken garden wrestling the roving convolvulus onto a trellis." Gertrud hurried away. There was so much to do. What on earth had she been thinking when she took on the project to turn an industrial wasteland into a garden cum nursery?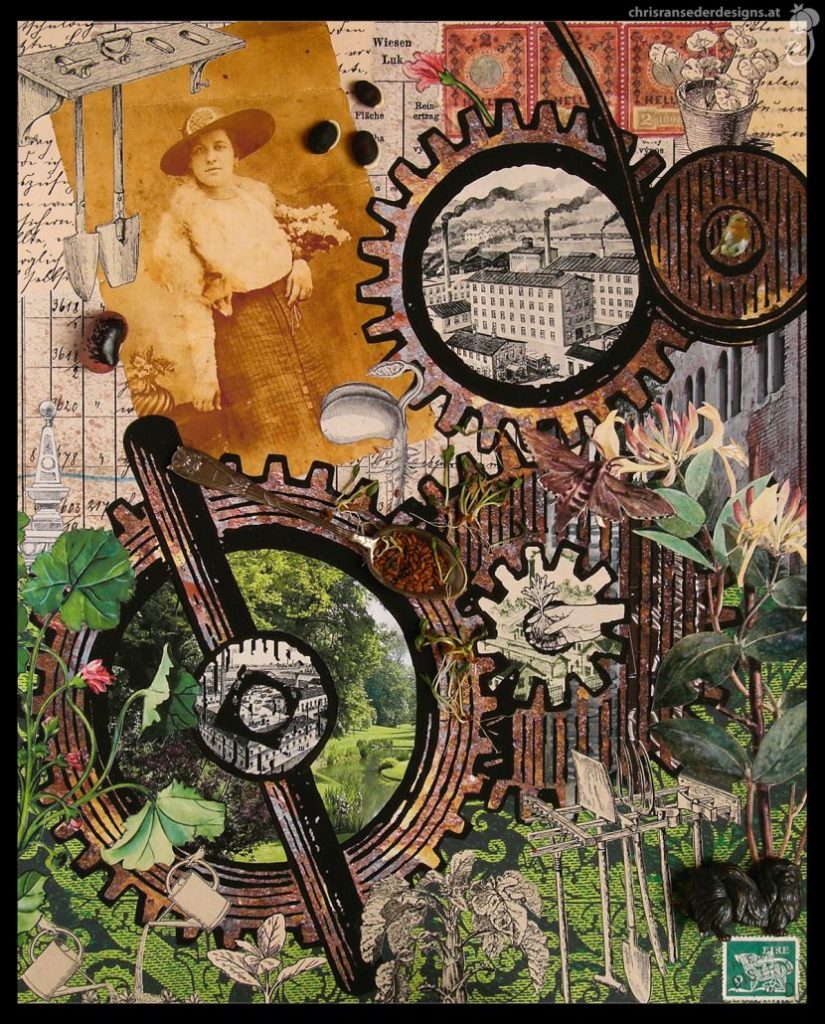 Die Pflanzenliebhaberinnen
Sehen Sie sich alte Fotografien von Frauen an und sie werden fast immer auch Schnittblumen im Bild entdecken – seien es nun echte oder künstliche. Ein hübscher Anblick, gewiss, aber ein bisschen zahm. Stellen wir uns zur Abwechslung einmal wagemutige Gärtnerinnen und Pflanzen mit Eigenwillen vor.
"Gertrud komm her, das musst du sehen!"
Die Besitzerin der Gärtnerei, die gerade knieend einen großen Polster freudlosen Mooses von besonders attraktiver schwarzer Färbung bewunderte, erhob sich schwerfällig und schlenderte zu ihrer Assistentin Phyllis.
"Schau, die errötenden Gänseblümchen zeigen eine neue Farbe!" Die junge Frau deutete aufgeregt auf die kleinen Pflanzen. Normalerweise wechselte diese einzigartige Sorte ihre Farbe von Weiß zu blassem Rosa, doch nun glühten die Gänseblümchen Karminrot.
"Was hast du ihnen vorgelesen?"
"Die Nachrichten."
"Tja, das erklärt alles!" Gertrud seufzte.
"Ein Kurzgeschichte mit Happy End sollte sie wieder beruhigen. Hast du übrigens bemerkt, dass die singenden Nesseln schon wieder in das Salatbeet eingewandert sind? Scheuch sie bitte zurück, wo sie hingehören. Und vergiss nicht die Löwenmäuler zu füttern, sonst erschrecken sie die Zinnien."
Phyllis nickte. "Mach ich."
"Gut. Ruf, wenn du Hilfe brauchst. Ich muss im tiefliegenden Garten mit den wandernden Winden ringen, damit sie auf die Gitter der Laube klettern." Gertrud eilte davon. Es gab so viel zu tun. Was um alles in der Welt hatte sie sich gedacht, als sie das Projekt übernahm, eine Industriebrache in einen Garten mit Gärtnerei zu verwandeln?