Fleamarket finds offer so much fun! I love old illustrated books, not least because they are full of figures of objects no longer in use and amusing pictures of evocative scenes.
Publications targeted at women and their families, like Die Gartenlaube or Schorrer´s Familienblatt, are a treasure trove of absurdities. Take, for example, the picture of a fecund hen and her chicks receiving a visit of friends. Readers obviously liked sentimental stuff of this kind, how else could one explain the caption "Besuch für die Wöchnerin" (visitit to a woman in childbed)?
And look what beastly me did: I tore out the page and placed hard boild eggs in front of the silly illustration! Four eggs left unfertilized, laid only to be snatched away and cooked to perfection. No cute chicks will ever burst forth from their shell. Life can be cruel – still lifes can be just as well.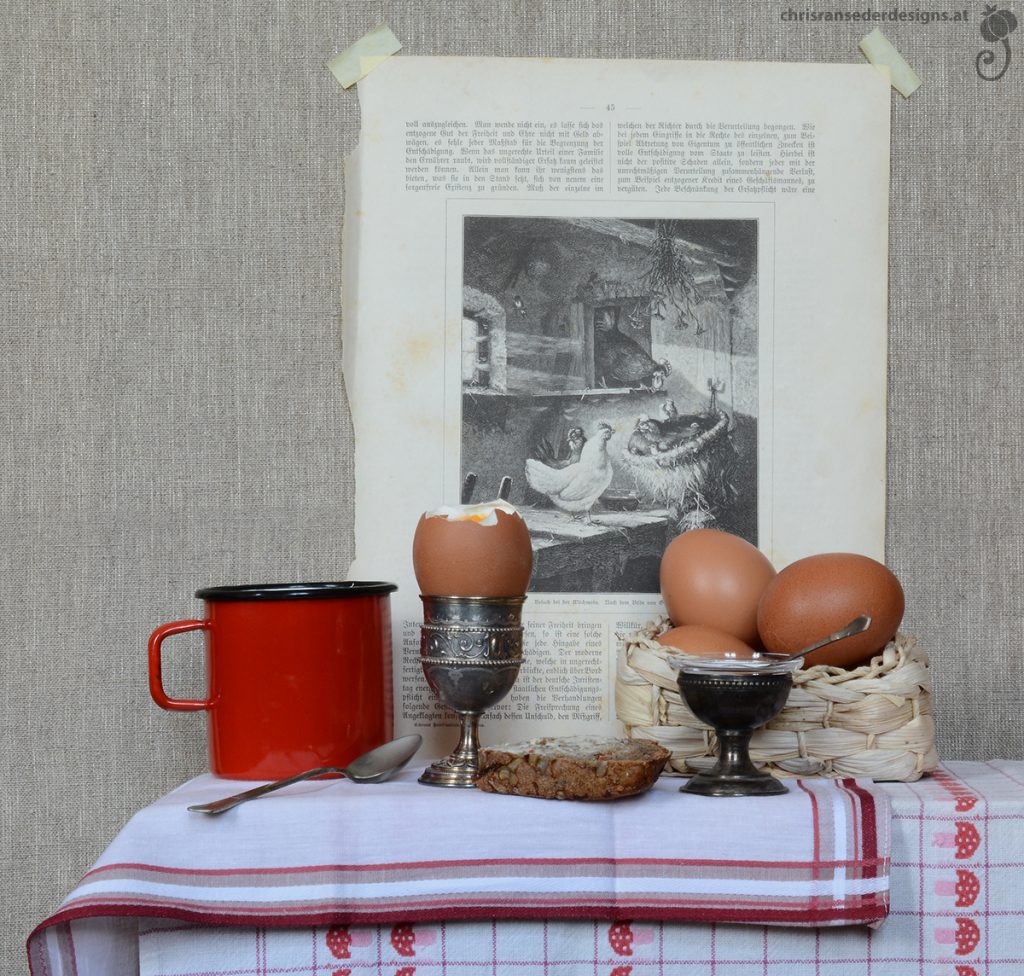 Der Eierdieb
Mit Flohmarktfunden kann man so viel Spaß haben! Ich liebe alte illustrierte Bücher, unter anderem wegen der Abbildungen von längst nicht mehr in Gebrauch stehenden Gegenständen und amüsanten Genreszenen.
Publikationen wie Die Gartenlaube oder Schorrer´s Familienblatt, deren Zielpublikum Frauen und ihre Familien waren, sind ein wahres Schatzkästlein der Absurditäten. Nehmen Sie zum Beispiel das Bild einer fruchtbaren Henne und ihrer Küken, die Besuch von Freundinnen erhält. LeserInnen gefiel derartiges sentimentales Zeug offenbar, wie ließe sich sonst die Bildunterschrift "Besuch für die Wöchnerin" erklären?
Ich Biest habe prompt die Seite herausgerissen und hart gekochte Eier vor die dümmliche Illustration gestellt. Ein Stillleben mit vier unbefruchteten Eiern, die nur gelegt wurden, um entwendet und perfekt gekocht zu werden. Nie werden niedliche Kücken aus den Eierschalen hervorbrechen. Das Leben kann grausam sein – Stillleben ebenso.