Conkers are catnip to me. I can´t resist them. They are so beautiful and enticing, I have to pick some up whenever I pass a horse chestnut tree in September.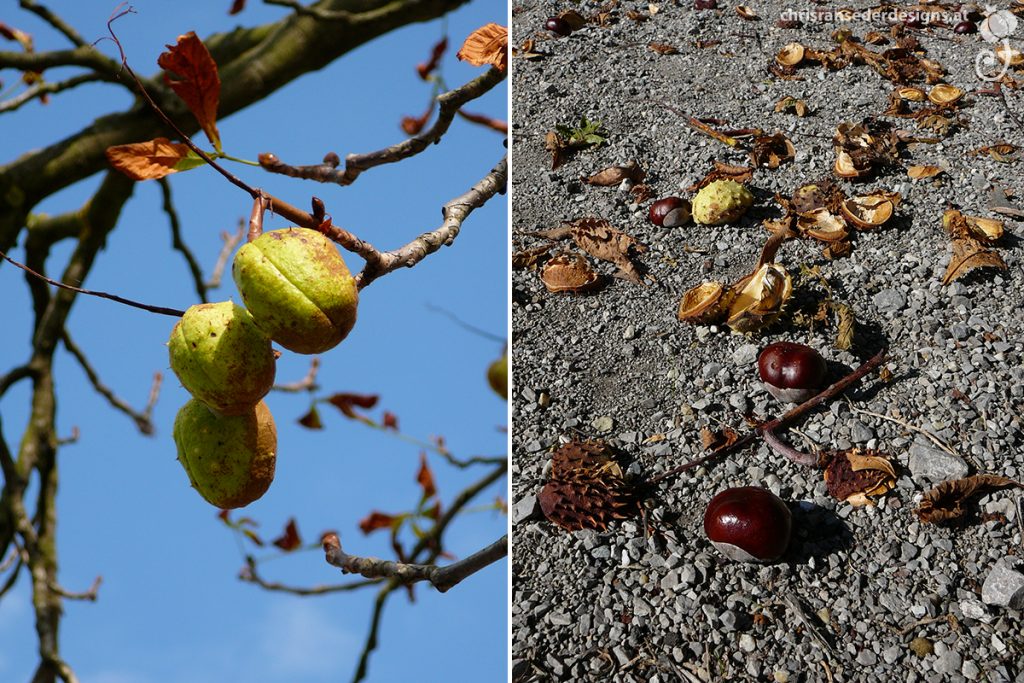 My love for the attractive fruit harks back to my early childhood. We were poor and I did not own many toys. But September always was a feast. With the help of toothpicks and string conkers and acorns turned into animals. There were fat dogs, hedgehogs, mice and countless horses on wobbly legs. Herds of them happily galloped across the floor or grazed peacefully on a bookshelf. Later I supplemented my meager pocket money by gathering horse chestnuts and selling them to a huntsmen, who bought them by the kilo as food for deer. As I grew older I learned to appreciate the beauty of the nut-like seeds.
I am not a big fan of the colour brown, but the smooth glossy skin of a conker is fascinating to behold. Look closely and you notice subtle patterns that bring to mind the grain of polished wood or watered silk. Like size, shape and colouring, the markings of each fruit are unique. Alas, once out of the prickly shell their beauty fades quickly – so I took a picture.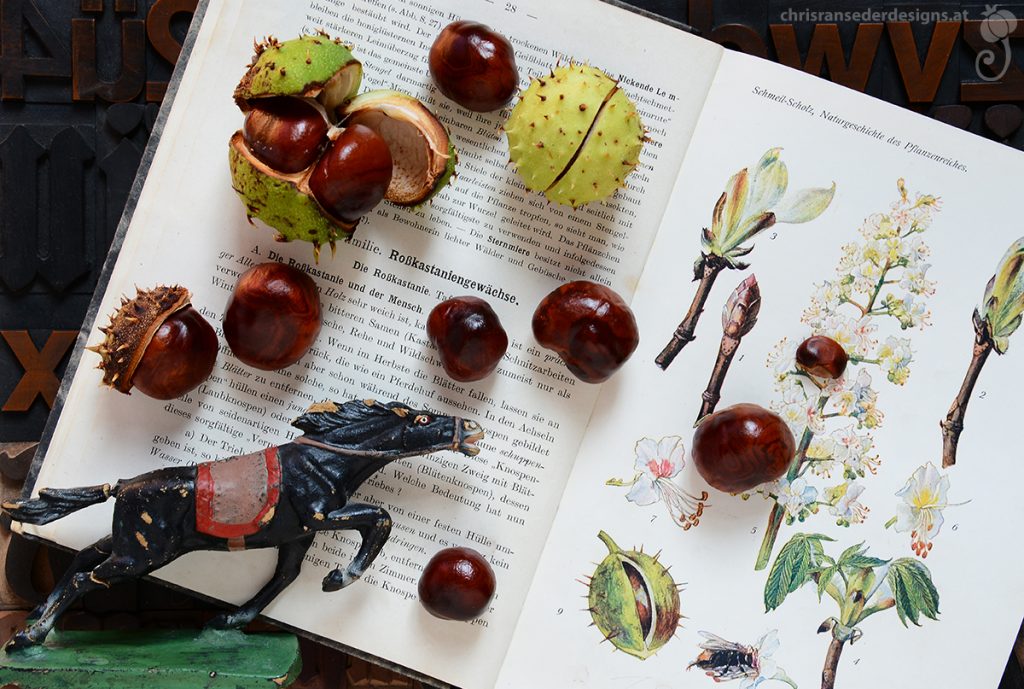 Verrückt nach Rosskastanien
Rosskastanien sind Katzenminze für mich. Ich kann ihnen nicht widerstehen. Sie sind so verlockend schön, dass ich immer einige aufheben muss, wenn ich im September an einem Rosskastanienbaum vorbeigehe.
Ich liebe die attraktiven Früchte seit meiner frühen Kindheit. Wir waren arm und ich besass nicht viel Spielzeug. Aber der September war jedes Jahr ein Fest. Rosskastanien und Eicheln verwandelten sich mithilfe von Zahnstochern und Schnur in Tiere. Sie wurden zu dicken Hunden, Igeln, Mäusen und zahllosen Pferden auf wackeligen Beinchen. Ganze Herden von ihnen galloppierten über den Fußboden oder grasten friedlich im Bücherregal. Später ging ich Rosskastanien sammeln, um mein mageres Taschengeld aufzubessern, denn ein Jäger in der Nachbarschaft kaufte sie kiloweise als Futter für sein Wild. Als ich älter wurde, lernte ich auch die Schönheit der nussartigen Samen schätzen.
Ich bin ja kein großer Fan der Farbe braun, aber die seidig-glatte, glänzende Oberfläche der Rosskastanien ist wirklich faszinierend. Wenn man genau hinsieht, entdeckt man subtile Muster, die an die Maserung von poliertem Holz oder Moiré-Seide erinnern. Das Muster auf jeder Frucht ist einzigartig, genau wie ihre Größe, Form und Farbschattierungen. Leider vergeht ihre Schönheit schnell, wenn sie sich ihrer stacheligen Schale entledigt haben – also schoss ich schnell ein Foto.