Do you have a favourite colour for Christmas ornaments/decoration? Spontaneously I would say red, but my preferences have changed over time. The Christmas trees of my childhood were fully laden with colourful paper stars, pastel pink and white meringue rings, silver lametta, owls made of pinecones and felt, sweets wrapped in multicoloured paper and a few Christmas baubles. The effect was cheerful and rather garish. Young me favoured purple & silver Christmas ornaments, interrupted by a short lived silver & clear glass intermezzo. Finally I gave up buying a tree.
Strangely we never used the lovely Christmas ornaments inherited from my grandmother. I still don´t, though now and then I have bought additional historical pieces. These days a bowl with a few clear handblown glass ornaments, red berries and tiny apples suffices.
I wish you a MERRY CHRISTMAS!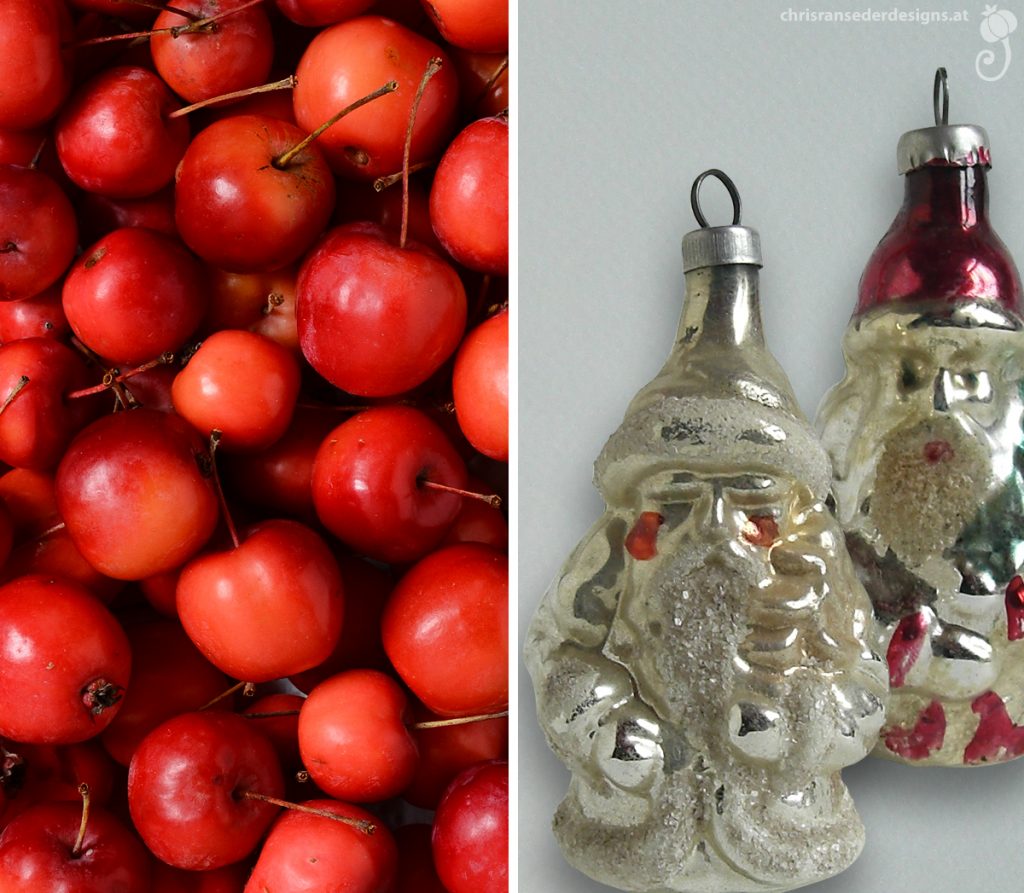 Colour Bliss #10
Haben Sie eine Lieblingsfarbe für Weihnachtsschmuck/-dekoration? Rot würde ich ganz spontan sagen, aber meine Vorlieben haben sich mit der Zeit geändert. Die Weihnachtsbäume meiner Kindheit waren überladen mit bunten Papiersternen, blassrosa und weißer Windbäckerei, silber Lametta, aus Tannenzapfen und Filz gebastelten Eulen, in farbenfrohes Papier gewickelten Süssigkeiten und einigen Christbaumkugeln. Der Gesamteindruck war zwar fröhlich, aber ziemlich geschmacklos. Als junge Erwachsene bevorzugte ich Weihnachtsschmuck in Violett und Silber, mit einem kurzen Zwischenspiel in Silber und transparentem Glas. Schließlich hörte ich auf einen Christbaum zu kaufen.
Eigenartigerweise verwendeten wir nie den hübschen Weihnachtsschmuck, den meine Großmutter hinterließ. Noch heute lüpfe ich nur kurz den Schachteldeckel, um mich zu erfreuen, obwohl ich gelegentlich alten Schmuck dazukaufe. Mir reicht eine Schale mit einigen mundgeblasenen Ornamenten aus klarem Glas, roten Beeren und kleinen Äpfelchen.
Ich wünsche Ihnen FROHE WEIHNACHTEN!