Colour warning! If you are averse to the beautiful colour worn by most villains in old animated films by Disney, dont´t scroll on. There are times I envy those characters, especially when it becomes imperative for meek me to create yet another colour palette to cope with stress. So I put on Eartha Kitt and joined her singing "I want to be evil …" – while fondling balls of wool. Sorting soothing colours almost made me forget my desire to chop wood or throw dishes. I even forbore angry shouting.
Taking pleasure in small things and accidental occurences, I was quite happy to find again a folder containing an abundance of pictures showing wilting tulips in various stages of decay erroneosly filed under the category "texture" instead of "flowers". The migration of data during the death throes of my old computer caused more havoc than I had thought. Sigh. Here are a few choice specimens of tulips chosen to match the colour palette
There is still nowhere to go and life is about as exciting as watching a snail cross the road, so I found solace in taking pictures of the patterns light creates on vintage glassware from Murano. The photos are a good match for the tulips.
And the result of these calming pasttimes? A symphony of purple in all its glorious shades!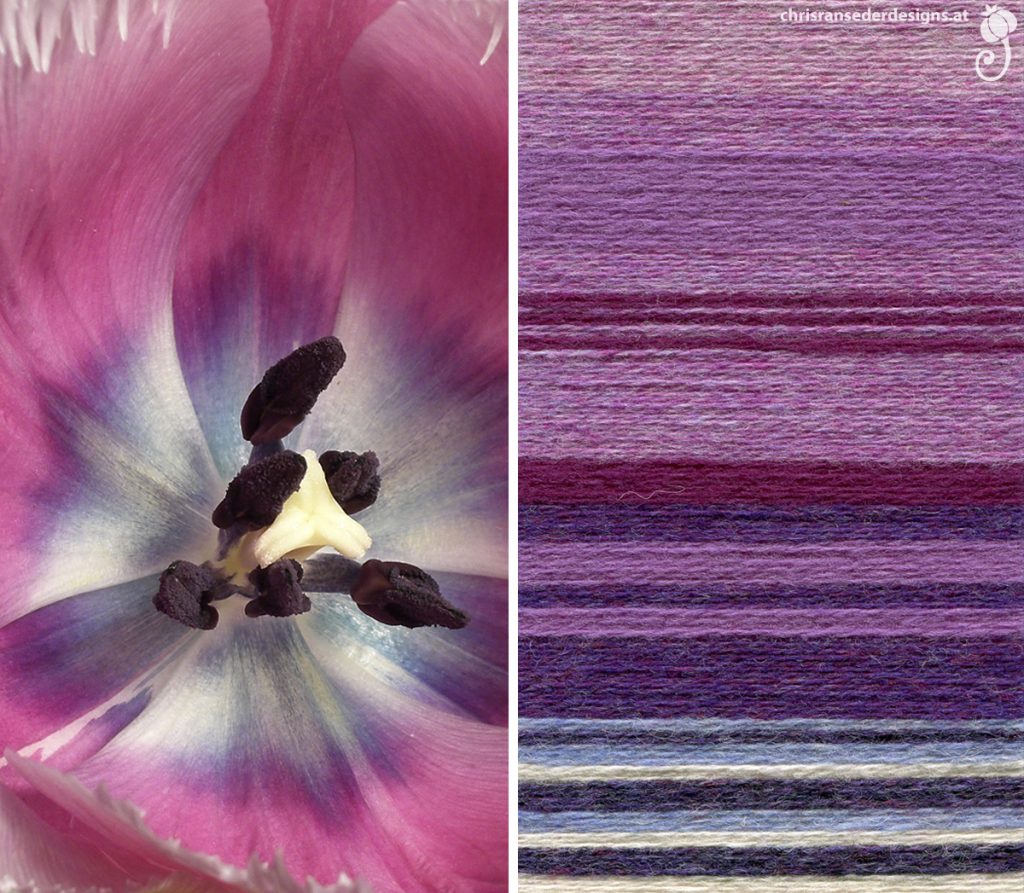 Colour Bliss #11
Entwarnung! Sie haben bis hierher gescrollt, zeigen also keine Abneigung gegen die wunderbare, von Bösewichten in alten Animationsfilmen von Disney getragene Farbe. Manchmal beneide ich diese Figuren, ganz besonders wenn mich – sanftmütig wie ich bin – das starke Bedürfnis packt, schon wieder eine Farbpalette zu wickeln, um Stress abzubauen. Also legte ich Eartha Kitt auf und sang mit ihr ""I want to be evil …", während ich dabei Wollknäuel tätschelte. Das Sortieren beruhigender Farben ließ mich fast meinen Wunsch, Holz zu hacken oder mit Geschirr zu schmeißen vergessen. Ich verkniff mir sogar wütend zu schreien.
Zu den erfreulichen Ereignissen der letzten Tage zählte der Fund eines Ordners mit Fotos von verwelkenden Tulpen in unterschiedlichen Stadien des Verfalls, den ich versehentlich unter der Rubrik Textur statt unter Blumen eingeordnet hatte. Die während des Todeskampfes meines alten Computers erfolgte Migration der Daten ging doch nicht so glatt, wie ich anfänglich gedacht hatte. Seufz. Die oben gezeigten Tulpenschönheiten habe ich passend zur Farbpalette ausgewählt.
Da die Möglichkeiten zur Freizeitgestaltung noch immer eingeschränkt sind und das Leben dadurch ungefähr so spannend ist, wie einer Schnecke beim Queren eines Weges zuzusehen, suchte ich Trost beim Fotografieren. Das Spiel des Lichts auf alten Glasvasen aus Murano ergab hübsche Muster, die gut zu den Tulpen passten. Das Ergebnis des beruhigenden Zeitvertreibs war eine Sinfonie aus Purpurtönen.