My love for the sea goes back a long time. However, I cannot fathom what possessed me to write a nightmarish story about a dive going terribly wrong. As the boat slowly descends the panic of the person supposed to gather data about deep-sea creatures mounts and finally escalates.
A file is such an intangible, unattraktive thing, so I made a book – as was to be expected. To capture the feeling of claustrophobia and growing anxiety font size dwindles to nothing and the lines get blurrier with each page. Finally the text becomes unreadable. Behind six closed portholes fish lurk. Pull a tab and you find yourself face to face with weird creatures flaunting long teeth, bulging eyes and glowing appendages. Who is the scariest of them all?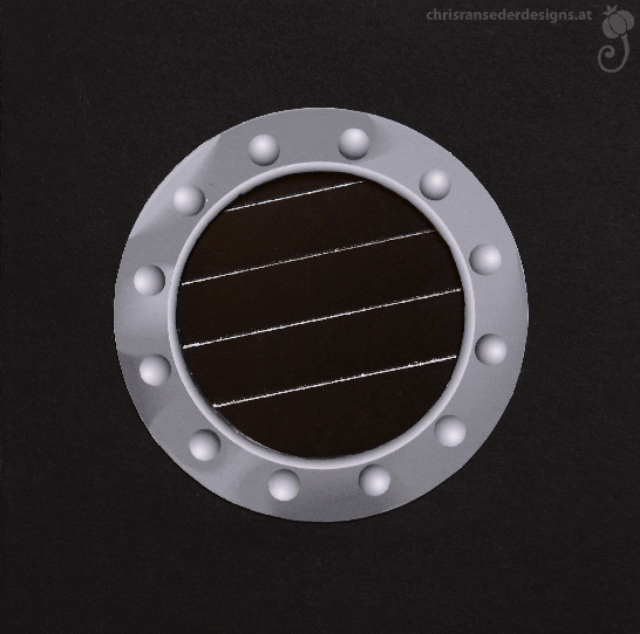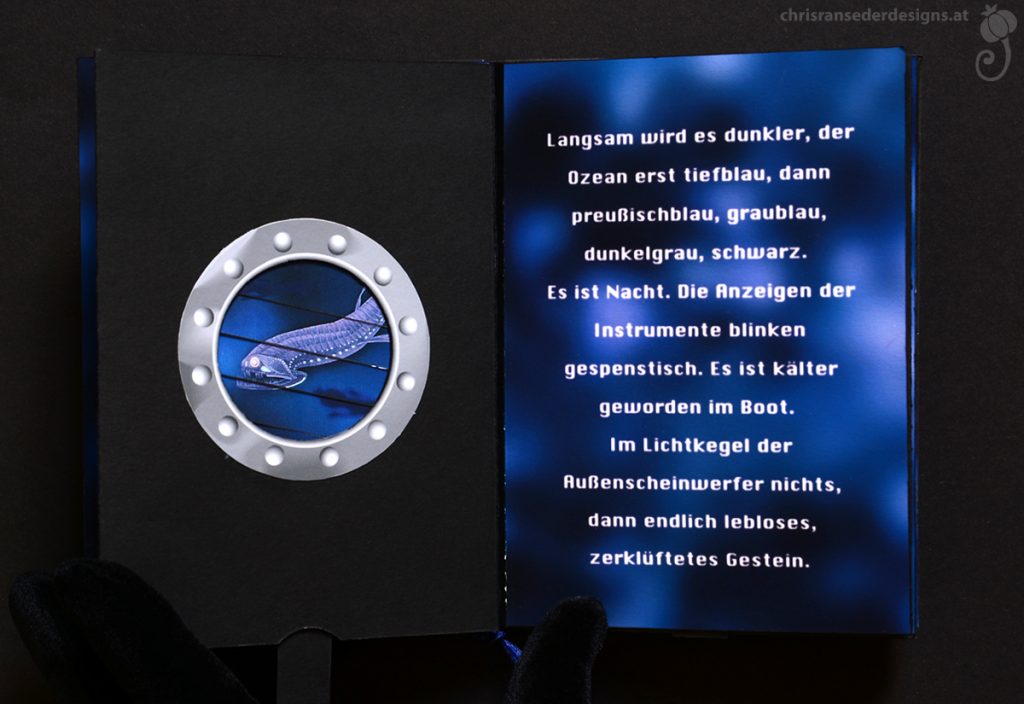 Tiefenrausch
Ich liebe das Meer schon seit langem. Was mich bewog, eine beklemmende Geschichte über einen katastrophal endenden Tauchgang zu schreiben, ist mir allerdings bis heute ein Rätsel. Während das Tauchboot langsam tiefer sinkt, steigt die Panik der Person, die Daten über die Lebewesen der Tiefsee sammeln soll, um schließlich zu eskalieren.
Eine Datei ist so nichtssagend unattraktiv, also habe ich – wie zu erwarten – ein Buch angefertigt. Seite für Seite schrumpft die Schriftgröße auf ein Nichts und die Zeilen werden immer verschwommener, um ein klaustrophobisches Gefühl und Beklemmung zu visualisieren. Hinter sechs Bullaugen lauern Fische. Wenn man eine Lasche zieht, findet man sich plötzlich von Angesicht zu Angesicht mit seltsamen Wesen, die stolz lange Zähne, Glubschaugen und leuchtende Fortsätze präsentieren. Wer ist am Furchterregendsten?