The fourth segment of "Ab in den Teich" is pure fiction. I have never seen goldfish in one of Türkenschanzpark´s ponds. That doesn´t necessarily mean there aren´t any. Perhaps a small shoal hides in the depths somewhere near one of the tiny ornamental islands. However, putting two exotic goldfish, likely from Japan, amid a jungle of aquatic plants is a flight of fancy, a play with "what if", a story waiting to be told. No wonder this pop-up is my favourite. So:
Once upon a time a Japanese girl came to Vienna to learn to play the violin. She lived all alone in a draughty garret, where she practiced till her fingers bled. One day two drops of blood fell into a cup of tea standing on the table in front of her. When the girl turned her gaze from the sheet music to the cup she saw two tiny goldfish stirring the tealeaves in a joyfull dance. The years passed and her golden scaled friends kept her company. When war came the Japanese girl, now a young woman, knew she had to leave the city in order to survive. With a heavy heart she realized there was no way to take her fish on the long arduous journey home. On a beautiful summer evening she wrapped the fishbowl in a cloth and walked to Türkenschanzpark. Saying farewell, she tipped the bowl into the water of the largest pond and set the magical creatures free. Who knows whether they still move in a silent dance in the dark depths of the still water.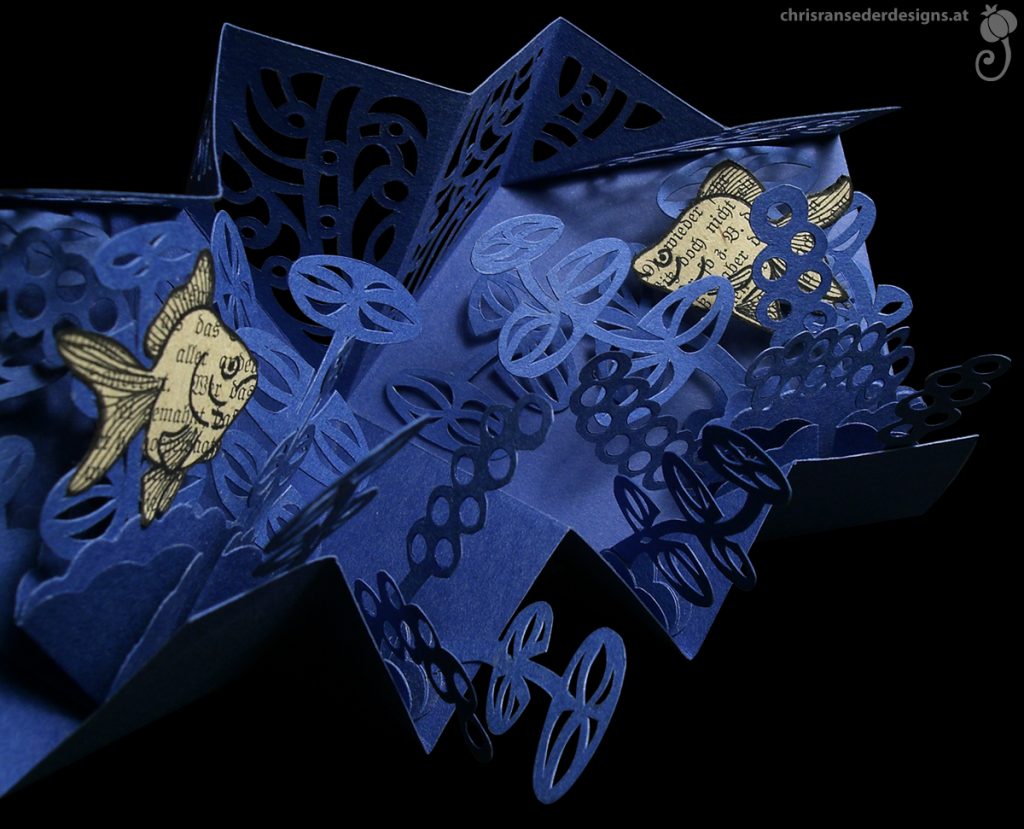 Tanz zweier Goldfische
Das vierte Segment von "Ab in den Teich" ist reine Erfindung. Noch nie habe ich Goldfische in einem der Teiche des Türkenschanzparks gesehen. Das heißt nicht unbedingt, dass es sie nicht gibt. Vielleicht versteckt sich ja ein kleiner Schwarm im tieferen Wasser nahe einer der winzigen ornamentalen Inseln. Wie auch immer – zwei exotische, wahrscheinlich aus Japan stammende, Goldfische in einem Wasserpflanzendschungel zu verstecken ist pure Fantasie, ein Spiel mit "was wäre, wenn", eine Geschichte, die darauf wartet, erzählt zu werden. Dass dieses Pop-up mein Favorit ist, wundert daher nicht weiter. Also:
Vor langer Zeit kam ein Mädchen aus Japan nach Wien, um das Geigenspiel zu erlernen. Sie lebte einsam in einer zugigen Dachstube, in der sie übte, bis ihre Finger bluteten. Eines Tages fielen zwei Tropfen ihres Blutes in eine Tasse Tee, die vor ihr auf einem Tisch stand. Als schließlich der Blick des Mädchens von den Noten zur Tasse glitt, sah sie zwei winzige Goldfische in einem freudvollen Tanz die Teeblätter aufwirbeln. Die Jahre vergingen und ihre goldgeschuppten Freunde leisteten ihr Gesellschaft. Als der Krieg kam, wusste das japanische Mädchen, nun eine junge Frau, dass sie die Stadt verlassen musste, um zu überleben. Schweren Herzens erkannte sie, wie unmöglich es wäre, ihre Fische auf die lange Heimreise mitzunehmen. Also wickelte sie an einem schönen Sommertag das Goldfischglas in ein Tuch und ging in den Türkenschanzpark. Abschied nehmend, kippte sie das Glas vorsichtig in das Wasser des größten Teiches und setzte die magischen Geschöpfe frei. Wer weiß, vielleicht tanzen sie noch immer lautlos in den Tiefen des stillen Wassers.