Meine Bewunderung für Buchmalerei ist grenzenlos, nicht zuletzt wegen der fantasievollen Randgestaltungen und Initialen. Ich liebe die kräftigen Farben und drolligen Details, den Horror vacui und die Pracht. Also beschloss ich, ein Kapitel des Buches "Textfisch" in Gouache zu malen.
Wird instant letters dem Wasser kleiner Teiche beigemengt, verleiht es Goldfischen die Gabe Haikus zu dichten. Besucher der Erlebniswelt Lost Arts bedienten sich Ohrtrompeten, um dieser Unterwasserlyrik zu lauschen. Dem exotischen Vergnügen wurde durch ein Fischsterben ein jähes Ende bereitet, nachdem sich ein des Plagiats beschuldigter Dichter im Teich ertränkt hatte. Die überlebenden Goldfische gingen zum Bedauern der Geschäftsleitung dazu über, eine Flossensprache zu entwickeln, die bis heute nicht entschlüsselt werden konnte.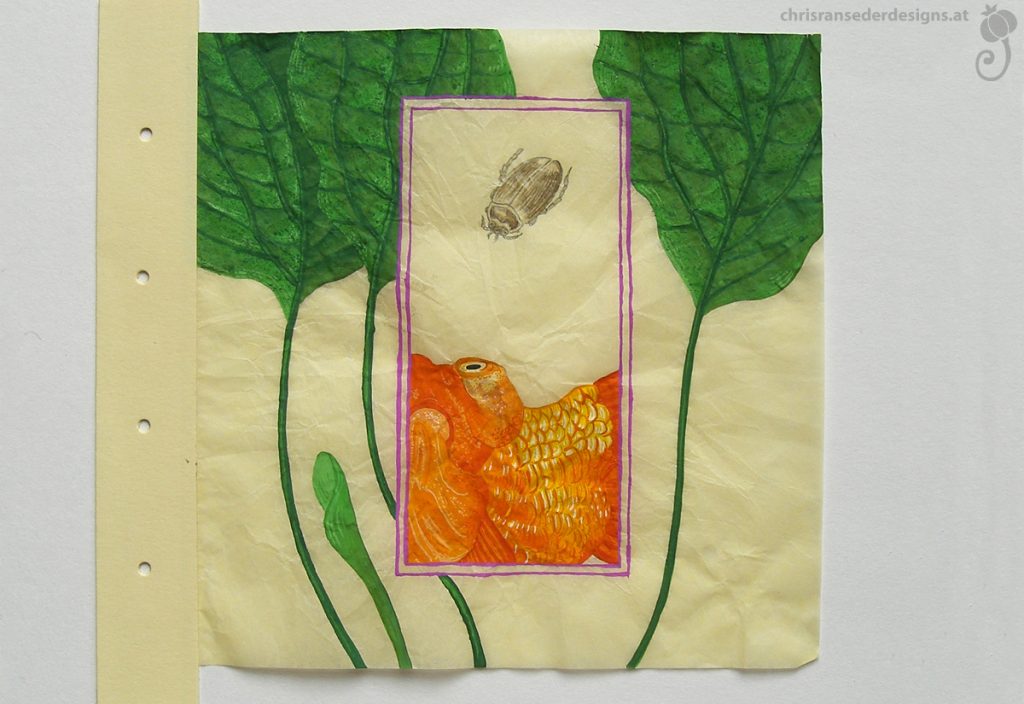 From Haiku to Sign Language
My admiration for illuminated manuscripts knows no bounds, not least because their borders are a space for fantasy. I love the brilliant colours and quirky details, the horror vacui and splendor. Therefore I decided to paint one chapter of the book "Textfisch" in gouache.
Add instant letters to the water of small ponds and it enables goldfish to talk haikus. Visitors to the theme park Lost Arts were given eartrumpets to listen to this unterwater-poetry. The suicide of a poet accused of plagiarism and the subsequent death of almost all fish put a sudden end to this exotic pleasure. To the infinite regret of the management the surviving goldfish began to develop a sign language using their fins, which has not been decoded so far.