Oh, to be free from the daily grind, from work, household chores and the demands of others – at least for a short period of time. In a good year I would have taken a few days off in early summer to travel and enjoy the intoxicating feeling of being somewhere else. I miss the experience of motion, of speed and of new visual impressions.
When on holiday I refuse to be ruled by the clock. Spontaneity reigns supreme. Package tours? Prebooked tickest? No, thank you! With the exception of large cities, I seldom stay put in one place for more than three days, often deciding on a whim where to go next and which train to take. I love to explore unencumbered, flitting from museum to museum, from garden or park to market, from palace to church. Roaming streets randomly, drawn by interesting architecture, I often find enticing small shops selling antiques, books, paper or local food and crafts. At the seaside you will most likely see me on my hands and knees sifting through the sand in search of tiny shells or staring rapt into rockpools. Bliss!
Some years ago I tried to catch my attitude towards travel in a book. To express my love for historic places/things I chose collage as a medium, delving into my collection of old letters, documents, illustrations, objects and drawings of my own.
The journey starts and ends with a booklet containing three pop-ups each. An concertina acts as a link and symbolizes the time spent on the road, paying homage to chance encounters and unexpected sights.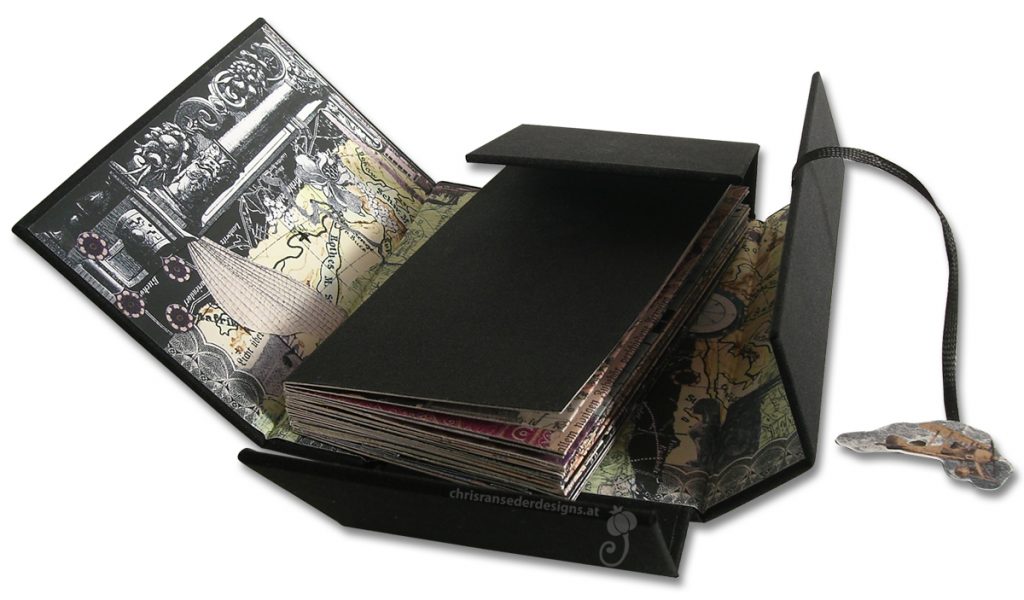 Nimm mich mit auf die Reise
Oh, wie gerne würde ich für kurze Zeit der Mühsal des Alltags entfliehen – irgendwohin weit weg von der Arbeit, dem Haushalt und den Forderungen Anderer. Wäre es ein gutes Jahr, hätte ich mir im Frühsommer ein paar Tage frei genommen, um zu reisen und das berauschende Gefühl einmal woanders zu sein zu genießen. Ich vermisse die Freuden der Fahrt und der damit verbundenen neuen Eindrücke, das Gefühl der Geschwindigkeit und des Vorwärtskommens.
Im Urlaub lasse ich mir den Tagesablauf nicht von der Uhr diktieren. Es regiert die Spontanität. Pauschalreise? In voraus gebuchte Eintrittskarten für "Zeitfenster"? Nein danke! Großstädte ausgenommen, bleibe ich selten mehr als drei Tage an einem Ort. Oft fällt die Entscheidung wo es als Nächstes hingeht – und mit welchem Zug – aus einer Laune heraus. Ich liebe es unbeschwert auf Erkundung zu gehen, von Museum zu Museum, von Garten oder Park zu Markt, von Schloss zu Kirche zu flitzen. Gerne streife ich aufs Geratewohl durch Straßen, lasse mich von interessanter Architektur locken und finde so oft verführerische kleine Läden, die Altwaren, Bücher, Papier oder lokales Essen und Kunsthandwerk verkaufen. Am Strand bin ich zumeist auf allen Vieren anzutreffen, entweder weil ich den Sand nach winzigen Muschen durchsuche oder verzückt in Tümpel starre. Glückseeligkeit!
Vor einigen Jahren habe ich versucht, meine Einstellung zum Reisen in einem Buch einzufangen. Um meiner Liebe zu historischen Orten/Dingen Ausdruck zu verleihen wählte ich als Medium die Collage. Als Material diente meine Sammlung alter Briefe, Dokumente, Illustrationen, Objekten und eigener Zeichungen.
Die Reise beginnt und endet mit einem Büchlein, das jeweils drei Pop-ups enthält. Ein Leporello verbindet die beiden Teile und symbolisiert gleichzeitig die Unterwegs verbrachte Zeit mit einer Hommage an Zufallsbegegnungen und unerwartete Anblicke.