… does not keep the doctor away, but it helps to sharpen one´s power of observation. Faded tulips are good models: patient, undemanding and decorative. It is best not to touch the flowers, because they are prone to shed their stamens. I love the satiny sheen of the whithered petals and their veined structure. The paper I was drawing on captured their fragility perfectly and as the pencil glided along the surface it made a pleasing sound – like a whisper. The finished drawings were hell to photograph, though.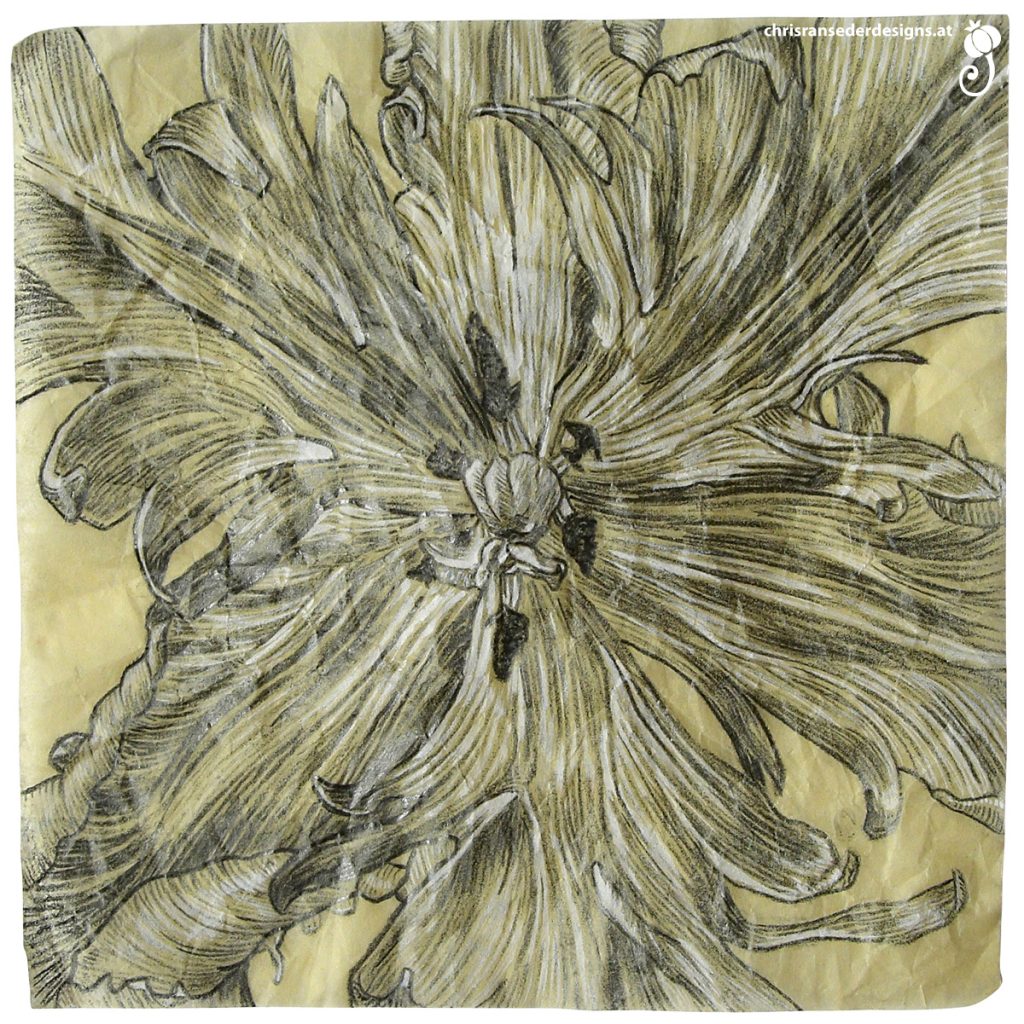 This is only a selection of the actual number of drawings I made. Eyeing the small pile I decided to add a few more showing stylish women in silhouette wearing magnified tulips as part of their dress. More about them next time.


Eine Zeichnung pro Tag …
… hält einem zwar nicht den Arzt vom Leibe, hilft aber die Beobachtungsgabe zu schärfen. Verblühte Tulpen sind gute Modelle: geduldig, anspruchslos und dekorativ. Allerdings sollte man die Blüten nicht anfassen, dann fallen nämlich meist die Staubgefäße ab. Ich liebe den seidigen Glanz der verwelkten Blütenblätter und deren geäderte Struktur. Die Fragilität der trockenen Tulpen spiegelte sich perfekt in dem Papier auf das ich zeichnete. Das Geräusch des Bleistifts, als er über die Oberfläche glitt, glich einem Flüstern. Allerdings war es eine Herausforderung, die fertigen Zeichnungen zu fotografieren.
Ich habe natürlich viel mehr Zeichnungen gemacht, als die kleine hier gezeigte Auswahl. Beim Beäugen des Stapels fasste ich den Entschluss, noch einige Modeillustrationen hinzuzufügen. Mir schwebten die Silhouetten eleganter Frauen, die riesige Tulpenblüten als Teil ihrer Kleidung trugen, vor. Mehr darüber nächstes Mal.